From the Desk of Kevin Hodson
At AAF Wealth Management, we spend most of our energy focused on helping our clients achieve their financial goals. What we often miss these days is sharing insight into the behind-the-scenes activity that makes us who we are – and makes us a great partner for you.
Before the pandemic, we were able to connect more frequently in person. Remote technologies have created greater accessibility on some level, but we don't necessarily have the chance to talk as much about what motivates us in and out of the office.
This email is a new way of letting you know what's on our mind. We hope it helps show another side of us, and we always welcome your thoughts!
On the desk
There's no doubt that the global markets are on an historic ride. The unique confluence of world events and economic maneuvering are combining to create a fascinating picture. There is plenty of volatility, and I'm encouraged to see most of our clients taking it in stride. Markets fluctuate, and when you have a long-term view, minor adjustments have the potential to smooth things out over time.
I've spent my entire career transfixed by the interplay of politics, economics, and how seemingly random developments work together to move the markets. There are no set rules. Every action has a reaction. It becomes a future-facing puzzle, and I spend most of my time thinking about how the pieces fit and where they will take us next.
For me, then, there are all these individual elements that bear watching, and sometimes the most interesting topics aren't where most people are looking. The war in Ukraine, for example, is terrible from a humanitarian perspective, and there are major questions about the energy impact. How the war further impacts the European economy is yet to be seen.
On the other hand, Japan's struggle to strengthen the yen is a story that has been playing out for decades. In an effort to protect its citizens, the Japanese government has intentionally kept interest rates low for an extended period (which may sound familiar, as we saw that strategy here in the U.S. over the past several years). Eventually, that deflationary environment will catch up with them and create a difficult situation. What we don't yet know is when that will come to pass, and what other circumstances will play into the equation.
I enjoy watching the ripples from these types of disconnected events come together. That's what I love most about our work. It's always evolving, and it satisfies an intellectual curiosity that's hard to find in other places.
Off the desk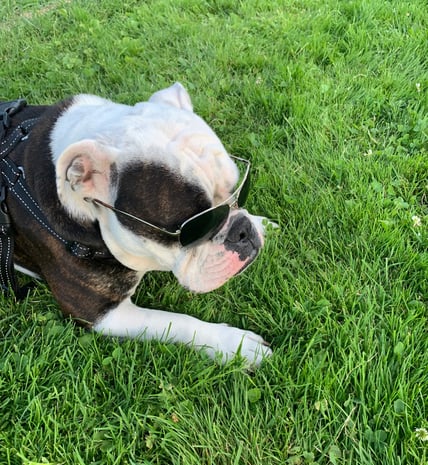 When I'm not following the markets, chauffeuring my kids, or walking my bulldog Harley (pictured to the left), I'm generally reading. Lately, I've been studying for the Chartered Alternative Investment Analyst designation, so I've been reading a lot of technical, investment related material. In general, I prefer non-fiction when reading for enjoyment.
I'm now plugging away on The Fourth Turning, written in 1997, which offers a persuasive prophecy about how America's past will predict its future. The four turnings comprise history's seasonal rhythm of growth, maturation, entropy, and rebirth. It interesting because it speaks to the differences in generations, and perhaps helps explain where we are now—largely split apart as a society.
I'll share more thoughts later this year in our Market Outlook. Stay tuned for those insights, and until then have a wonderful Fall season!