Open Positions

Now Hiring Great Minds & Great Hearts >>

Experienced
Professionals

Entry Level Professionals & Interns

Work from Anywhere!

Work with Purpose

Read our Impact Report, which outlines our efforts to achieve our Social Purpose.

Innovation, Entrepreneurial Spirit, and Inclusivity

AAFCPAs' leadership is focused on three strategic pillars: People, Culture, and a Profitable Growth Mindset
Careers at AAFCPAs at a Glance
AAFCPAs is a leading CPA and consulting firm based in New England with clients all over the United States, as well as multi-national businesses.
Our diverse career paths include:
Audit & Tax
Outsourced Accounting & Advisory (Fractional CFOs, Controllers)
Wealth Management
Business Intelligence & Productivity Consulting
Information Risk Management & Cybersecurity Consulting
Data Analytics
Robotic Process Automation
System Selection/Implementation
Other Attest, Compliance, Certifications Consulting (SOC Reports, SOX 404, HIPAA)
Business Transaction Advisory
Firm Support, Internal Operations
Work from Anywhere
We have a Work from Anywhere policy, and our 300+ member team has the flexibility to customize how, when, and where they work, as long as the individual's plan accounts for excellence in client service (In-person in one of our 3 MA offices, full remote, hybrid?)! Learn more.>>
What's Unique & Awesome
Some of the key characteristics our exceptional team finds unique and awesome about working at AAFCPAs: culture, flexibility, full potential coaching & career self-reliance training, choose your path, innovation, leadership opportunities, and a clear social purpose. Learn more.>>
10% Back to Nonprofits
The 10% Back to Nonprofits Program is our commitment to impact community service.  It defines the spirit of our people, the work that unites us, and the essence of the AAFCPAs culture. Learn more.>>
Can you see yourself here?
Contact Amy Quinn, Talent Manager, Acquisition & Engagement, for an exploratory discussion, and follow AAFCPAs on LinkedIn: #growthstory #greatmindsgreathearts #aafcpas
---
AAFCPAs' Open Positions
Audit & Tax | Consulting | Outsourced Accounting | Firm Support | Entry Level & Internships
Audit & Tax
Consulting
Outsourced Accounting & Advisory
Firm Support
AAFCPAs' Client Postings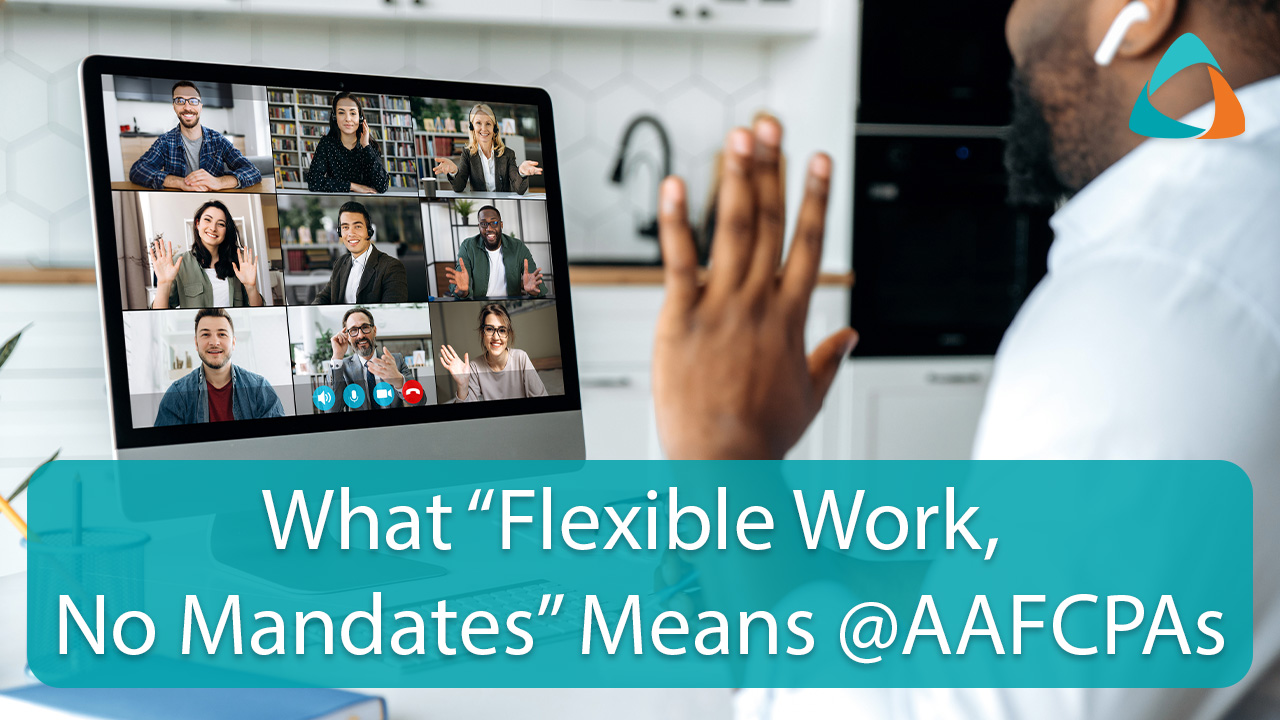 AAFCPAs is an equal opportunity employer and is committed to providing a workplace free from harassment and discrimination. We celebrate the unique differences of our employees because that is what drives curiosity, innovation, and the success of our business. We do not discriminate on the basis of race, religion, color, national origin, gender, sexual orientation, gender identity or expression, age, marital status, veteran status, disability status, pregnancy, parental status, genetic information, political affiliation, or any other status protected by the laws or regulations in the locations where we operate. Accommodations are available for applicants with disabilities.